ewogICJlbGVtZW50IiA6ICJoc3JreS9hcnRpa2tlbGl0L2FydGlra2VsaS90ZWtzdGkiLAogICJlbGVtZW50X21vZGUiIDogIiIsCiAgImVsZW1lbnQuY29tcG9uZW50IiA6ICJ0cnVlIiwKICAiaGFlX2FydGlra2VsaV90ZWtzdGkiIDogImFydGlra2VsaXQvaGFlX2FydGlra2VsaS90ZWtzdGkiLAogICJlbGVtZW50LjYiIDogImZhbHNlIiwKICAiZWxlbWVudC41IiA6ICJmYWxzZSIsCiAgInNlY3Rpb24iIDogImRlZmF1bHQiLAogICJlbGVtZW50LnB1YmxpY2xpbmsiIDogIi9lbGVtZW50Lmh0bWwuc3R4IiwKICAiaW1wb3J0cGF0aCIgOiAiL3dlYmNvbXBvbmVudHMvaHNya3kvYXJ0aWtrZWxpdC9hcnRpa2tlbGkvdGVrc3RpLyIsCiAgIlVJRCIgOiAiaWRwaUJjb1pGdXEiLAogICJjc3MiIDogImNzcy90ZWtzdGkuY3NzIiwKICAiZGF0YV9saXN0ZW5lcnMiIDogImhzcmt5L2FydGlra2VsaXQvYXJ0aWtrZWxpL3Rla3N0aSIsCiAgImNhcmRjaGFubmVsIiA6ICJwdWJsaWMiLAogICJDVVJSRU5UUEFUSCIgOiAiL2hzcmt5L2FydGlra2VsaXQvYXJ0aWtrZWxpL3Rla3N0aS8iLAogICJlbGVtZW50LmxpbmsiIDogIi9lbGVtZW50Lmh0bWwuc3R4IiwKICAidXJsZXhlY3V0ZXBhdGgiIDogIi9jaGFubmVscy9wdWJsaWMvd3d3L2hzcmt5L2ZpL2luZGV4L3Npc2FsdG9rZXNrdXMvWDJRbFBxYWIyIiwKICAic2tpbiIgOiAic2tpbnMvdGVrc3RpLmh0bWwiLAogICJlbGVtZW50LmxvYWQiIDogInNlcnZlciIsCiAgIlhYWGVsZW1lbnQub25sb2FkIiA6ICJzZXJ2ZXIiLAogICJJTlNUQU5DRUlEIiA6ICJwaUJkWWRsU0MiLAogICJlbGVtZW50Lm1vZGUiIDogImVsZW1lbnQiLAogICJjaGFubmVsLmxhbmd1YWdlIiA6ICJmaSIsCiAgImkxOG4uYmFzZSIgOiAiaHNya3kvYXJ0aWtrZWxpdC9hcnRpa2tlbGkvdGVrc3RpIiwKICAiZWxlbWVudC5wYXRoIiA6ICJoc3JreS9hcnRpa2tlbGl0L2FydGlra2VsaS90ZWtzdGkiLAogICJlbGVtZW50Lmxhbmd1YWdlIiA6ICJmaSIsCiAgInB1YmxpY3VybCIgOiAiL2VsZW1lbnQuaHRtbC5zdHgiLAogICJlZGl0dXJsIiA6ICJodHRwczovL2hzcmt5MjAxNmNtcy1wcm9kLmFiYWtvLmZpL2Jpbi9nZXQvdmVkL1gyUWJDc21aVS5YMlA5NXR3UXEuREV4TlR2ekk3IiwKICAiIiA6ICIiLAogICJHVUlEIiA6ICIiLAogICJ2aWV3dXJsIiA6ICJodHRwczovL2hzcmt5MjAxNmNtcy1wcm9kLmFiYWtvLmZpL2Jpbi9nZXQvdmlkL1gyUWJDc21aVS5YMlA5NXR3UXEuREV4TlR2ekk3Igp9
Anna palautetta Malmin ja Hietaniemen hautausmailla pyhäinpäivänä järjestetystä Kuoleman puutarhat -tapahtumasta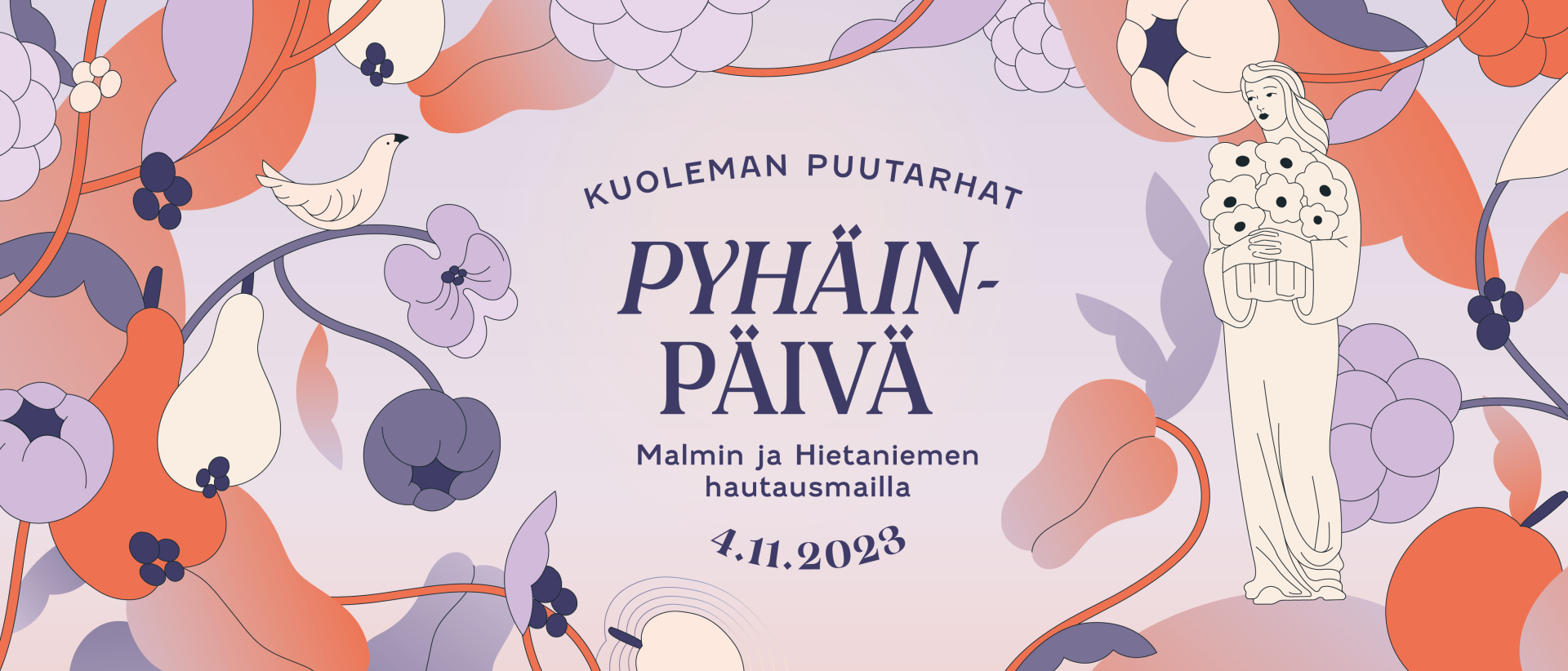 Mitä pidit pyhäinpäivän Kuoleman puutarhat -tapahtumista Malmin tai Hietaniemen hautausmaalla? Missä onnistuimme tai mitä voisimme kehittää? Arvostamme kovasti kaikenlaista palautetta!
What did you think of the All Saints' Day events on Malmi and Hietaniemi cemeteries? What did we do right and what could we do better? We appreciate all of your feedback!

Anna palautetta / ge respons / give feedback.
‍
ewogICJlbGVtZW50IiA6ICJoc3JreS9hcnRpa2tlbGl0L2FydGlra2VsaS9qYWEiLAogICJlbGVtZW50X21vZGUiIDogIiIsCiAgImVsZW1lbnQuY29tcG9uZW50IiA6ICJ0cnVlIiwKICAiaTE4bi5qYWEiIDogIkphYSIsCiAgImVsZW1lbnQuNiIgOiAiZmFsc2UiLAogICJlbGVtZW50LjUiIDogImZhbHNlIiwKICAic2VjdGlvbiIgOiAiZGVmYXVsdCIsCiAgImVsZW1lbnQucHVibGljbGluayIgOiAiL2VsZW1lbnQuaHRtbC5zdHgiLAogICJpbXBvcnRwYXRoIiA6ICIvd2ViY29tcG9uZW50cy9oc3JreS9hcnRpa2tlbGl0L2FydGlra2VsaS9qYWEvIiwKICAia29rbyIgOiAiMTIiLAogICJVSUQiIDogImlkcGk2WFhLYkFtIiwKICAiZWxlbWVudC5iYXNlLmxpc3QiIDogIi9tb2R1bGVzYmFzZS9lbGVtZW50cy9oc3JreS91dXRpc2V0L3V1dGlzZXQvdXV0aW5lbi9qYWEsL21vZHVsZXNiYXNlL2VsZW1lbnRzL2hzcmt5L2phYSIsCiAgImNzcyIgOiAiY3NzL2phYS5jc3MiLAogICJFbGVtZW50LkJhc2UiIDogImhzcmt5L2phYSIsCiAgImRhdGFfbGlzdGVuZXJzIiA6ICJoc3JreS9hcnRpa2tlbGl0L2FydGlra2VsaS9qYWEiLAogICJjYXJkY2hhbm5lbCIgOiAicHVibGljIiwKICAiZWxlbWVudC5iYXNlIiA6ICJoc3JreS91dXRpc2V0L3V1dGlzZXQvdXV0aW5lbi9qYWEiLAogICJDVVJSRU5UUEFUSCIgOiAiL2hzcmt5L2FydGlra2VsaXQvYXJ0aWtrZWxpL2phYS8iLAogICJ1cmxleGVjdXRlcGF0aCIgOiAiL2NoYW5uZWxzL3B1YmxpYy93d3cvaHNya3kvZmkvaW5kZXgvc2lzYWx0b2tlc2t1cy9YMlFsUHFhYjIiLAogICJlbGVtZW50LmxpbmsiIDogIi9lbGVtZW50Lmh0bWwuc3R4IiwKICAic2hvcnR1cmwiIDogInRydWUiLAogICJza2luIiA6ICJza2lucy9qYWEuaHRtbCIsCiAgImVsZW1lbnQubG9hZCIgOiAic2VydmVyIiwKICAiWFhYZWxlbWVudC5vbmxvYWQiIDogInNlcnZlciIsCiAgIklOU1RBTkNFSUQiIDogInBpNlpESjJmbyIsCiAgImNoYW5uZWwubGFuZ3VhZ2UiIDogImZpIiwKICAiZWxlbWVudC5tb2RlIiA6ICJlbGVtZW50IiwKICAiZWxlbWVudC5wYXRoIiA6ICJoc3JreS9hcnRpa2tlbGl0L2FydGlra2VsaS9qYWEiLAogICJlbGVtZW50Lmxhbmd1YWdlIiA6ICJmaSIsCiAgImkxOG4uYmFzZSIgOiAiaHNya3kvYXJ0aWtrZWxpdC9hcnRpa2tlbGkvamFhIiwKICAiZWRpdHVybCIgOiAiaHR0cHM6Ly9oc3JreTIwMTZjbXMtcHJvZC5hYmFrby5maS9iaW4vZ2V0L3ZlZC9YMlFiQ3NtWlUuWDJQOTV0d1FxLkRFeE5UdnpJNyIsCiAgInB1YmxpY3VybCIgOiAiL2VsZW1lbnQuaHRtbC5zdHgiLAogICIiIDogIiIsCiAgIkdVSUQiIDogIiIsCiAgInZpZXd1cmwiIDogImh0dHBzOi8vaHNya3kyMDE2Y21zLXByb2QuYWJha28uZmkvYmluL2dldC92aWQvWDJRYkNzbVpVLlgyUDk1dHdRcS5ERXhOVHZ6STciCn0=