Knitting club
22.11.2023 klo 18:00 - 20:00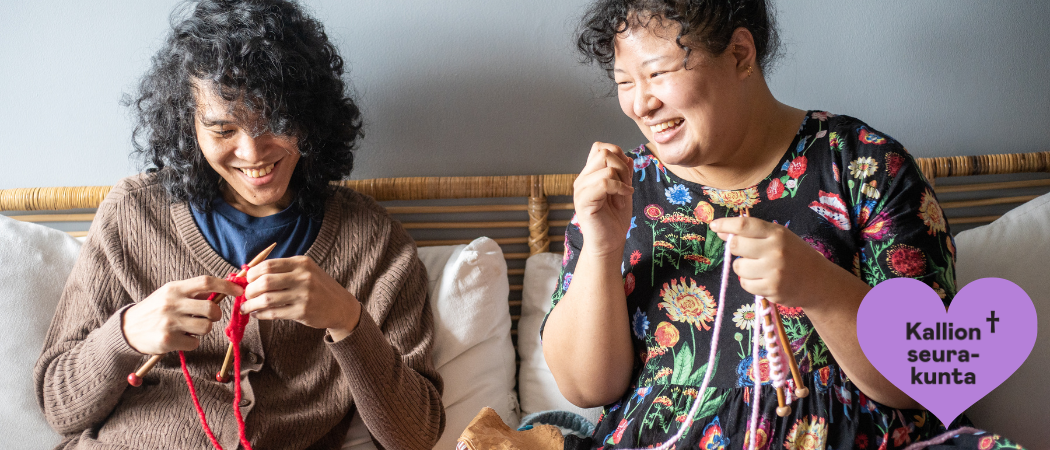 Discover your creative side at our International Knitting and Crocheting Club!
Join us every Wednesday from 6 PM to 8 PM at Suonionkatu 7.
Whether you're a beginner or an experienced crafter, everyone is welcome!
‍
International Knitting and Crocheting club for people from all over the word! We have members from Australia, USA, France, Germany, Finland, Sweden, India and many more countries. The idea of a club is to share the passion for knitting/crocheting no matter where you come from. We chat and laugh, share and learn from each other. The time together crafting and sharing is irreplaceable!
There is no requirement for your crafting skills - just bring yourself and have fun. We can also teach those, who want to learn knitting or crocheting free of charge.
Find us on Facebook: Knitting Club Helsinki
ewogICJlbGVtZW50IiA6ICJoc3JreS90YXBhaHR1bWF0L3RhcGFodHVtYS9pbG1vaXR0YXV0dW1pbmVuIiwKICAiZWxlbWVudF9tb2RlIiA6ICIiLAogICJlbGVtZW50LmNvbXBvbmVudCIgOiAidHJ1ZSIsCiAgImVsZW1lbnQuNiIgOiAiZmFsc2UiLAogICJlbGVtZW50LjUiIDogImZhbHNlIiwKICAic2VjdGlvbiIgOiAiZGVmYXVsdCIsCiAgImVsZW1lbnQucHVibGljbGluayIgOiAiL2VsZW1lbnQuaHRtbC5zdHgiLAogICJpbXBvcnRwYXRoIiA6ICIvd2ViY29tcG9uZW50cy9oc3JreS90YXBhaHR1bWF0L3RhcGFodHVtYS9pbG1vaXR0YXV0dW1pbmVuLyIsCiAgIlVJRCIgOiAiaWRjV3Y2cnNla1MiLAogICJjc3MiIDogImNzcy9pbG1vaXR0YXV0dW1pbmVuLmNzcyIsCiAgImRhdGFfbGlzdGVuZXJzIiA6ICJoc3JreS90YXBhaHR1bWF0L3RhcGFodHVtYS9pbG1vaXR0YXV0dW1pbmVuIiwKICAiY2FyZGNoYW5uZWwiIDogInB1YmxpYyIsCiAgIkNVUlJFTlRQQVRIIiA6ICIvaHNya3kvdGFwYWh0dW1hdC90YXBhaHR1bWEvdGFwYWh0dW1hL3RhcGFodHVtYS9oc3JreS90YXBhaHR1bWF0L3RhcGFodHVtYS9pbG1vaXR0YXV0dW1pbmVuLyIsCiAgInVybGV4ZWN1dGVwYXRoIiA6ICIvY2hhbm5lbHMvcHVibGljL3d3dy9oc3JreS9lbi9hcnRpa2tlbGkiLAogICJlbGVtZW50LmxpbmsiIDogIi9lbGVtZW50Lmh0bWwuc3R4IiwKICAic2tpbiIgOiAic2tpbnMvaWxtb2l0dGF1dHVtaW5lbi5odG1sIiwKICAiZWxlbWVudC5sb2FkIiA6ICJzZXJ2ZXIiLAogICJYWFhlbGVtZW50Lm9ubG9hZCIgOiAic2VydmVyIiwKICAiSU5TVEFOQ0VJRCIgOiAiY1d2N2pXOGxrIiwKICAiZWxlbWVudC5tb2RlIiA6ICJlbGVtZW50IiwKICAiY2hhbm5lbC5sYW5ndWFnZSIgOiAiZmkiLAogICJlbGVtZW50LnBhdGgiIDogImhzcmt5L3RhcGFodHVtYXQvdGFwYWh0dW1hL2lsbW9pdHRhdXR1bWluZW4iLAogICJlbGVtZW50Lmxhbmd1YWdlIiA6ICJmaSIsCiAgImkxOG4uYmFzZSIgOiAiaHNya3kvdGFwYWh0dW1hdC90YXBhaHR1bWEvaWxtb2l0dGF1dHVtaW5lbiIsCiAgInB1YmxpY3VybCIgOiAiL2VsZW1lbnQuaHRtbC5zdHgiLAogICJlZGl0dXJsIiA6ICJodHRwczovL2hzcmt5MjAxNmNtcy1wcm9kLmFiYWtvLmZpL2Jpbi9nZXQvZWlkL3h3S0hNSDdnbC5ERXhOVHZ6STciLAogICIiIDogIiIsCiAgIkdVSUQiIDogIiIsCiAgInZpZXd1cmwiIDogImh0dHBzOi8vaHNya3kyMDE2Y21zLXByb2QuYWJha28uZmkvYmluL2dldC9pZC94d0tITUg3Z2wuREV4TlR2ekk3Igp9
ewogICJlbGVtZW50IiA6ICJoc3JreS90YXBhaHR1bWF0L3RhcGFodHVtYS90YXBhaHR1bWEvamFhIiwKICAiZWxlbWVudF9tb2RlIiA6ICIiLAogICJlbGVtZW50LmNvbXBvbmVudCIgOiAidHJ1ZSIsCiAgImkxOG4uamFhIiA6ICJKYWEiLAogICJlbGVtZW50LjYiIDogImZhbHNlIiwKICAiZWxlbWVudC41IiA6ICJmYWxzZSIsCiAgInNlY3Rpb24iIDogImRlZmF1bHQiLAogICJlbGVtZW50LnB1YmxpY2xpbmsiIDogIi9lbGVtZW50Lmh0bWwuc3R4IiwKICAiaW1wb3J0cGF0aCIgOiAiL3dlYmNvbXBvbmVudHMvaHNya3kvdGFwYWh0dW1hdC90YXBhaHR1bWEvdGFwYWh0dW1hL2phYS8iLAogICJrb2tvIiA6ICI4IiwKICAiVUlEIiA6ICJpZGNXdXNWSHlaNiIsCiAgImVsZW1lbnQuYmFzZS5saXN0IiA6ICIvbW9kdWxlc2Jhc2UvZWxlbWVudHMvaHNya3kvamFhIiwKICAiY3NzIiA6ICJjc3MvamFhLmNzcyIsCiAgIkVsZW1lbnQuQmFzZSIgOiAiaHNya3kvamFhIiwKICAiZGF0YV9saXN0ZW5lcnMiIDogImhzcmt5L3RhcGFodHVtYXQvdGFwYWh0dW1hL3RhcGFodHVtYS9qYWEiLAogICJjYXJkY2hhbm5lbCIgOiAicHVibGljIiwKICAiZWxlbWVudC5iYXNlIiA6ICJoc3JreS9qYWEiLAogICJDVVJSRU5UUEFUSCIgOiAiL2hzcmt5L3RhcGFodHVtYXQvdGFwYWh0dW1hL3RhcGFodHVtYS9qYWEvIiwKICAidXJsZXhlY3V0ZXBhdGgiIDogIi9jaGFubmVscy9wdWJsaWMvd3d3L2hzcmt5L2VuL2FydGlra2VsaSIsCiAgImVsZW1lbnQubGluayIgOiAiL2VsZW1lbnQuaHRtbC5zdHgiLAogICJzaG9ydHVybCIgOiAidHJ1ZSIsCiAgInNraW4iIDogInNraW5zL2phYS5odG1sIiwKICAiZWxlbWVudC5sb2FkIiA6ICJzZXJ2ZXIiLAogICJYWFhlbGVtZW50Lm9ubG9hZCIgOiAic2VydmVyIiwKICAiSU5TVEFOQ0VJRCIgOiAiY1d1dGpnU2RVIiwKICAiY2hhbm5lbC5sYW5ndWFnZSIgOiAiZmkiLAogICJlbGVtZW50Lm1vZGUiIDogImVsZW1lbnQiLAogICJlbGVtZW50LnBhdGgiIDogImhzcmt5L3RhcGFodHVtYXQvdGFwYWh0dW1hL3RhcGFodHVtYS9qYWEiLAogICJlbGVtZW50Lmxhbmd1YWdlIiA6ICJmaSIsCiAgImkxOG4uYmFzZSIgOiAiaHNya3kvdGFwYWh0dW1hdC90YXBhaHR1bWEvdGFwYWh0dW1hL2phYSIsCiAgImVkaXR1cmwiIDogImh0dHBzOi8vaHNya3kyMDE2Y21zLXByb2QuYWJha28uZmkvYmluL2dldC9laWQveHdLSE1IN2dsLkRFeE5UdnpJNyIsCiAgInB1YmxpY3VybCIgOiAiL2VsZW1lbnQuaHRtbC5zdHgiLAogICIiIDogIiIsCiAgIkdVSUQiIDogIiIsCiAgInZpZXd1cmwiIDogImh0dHBzOi8vaHNya3kyMDE2Y21zLXByb2QuYWJha28uZmkvYmluL2dldC9pZC94d0tITUg3Z2wuREV4TlR2ekk3Igp9