Dining and
Food Distribution at Helsinki Parishes in the Spring Season of 2023
Let's eat! At the church, you can sit at a set table, or take food with you.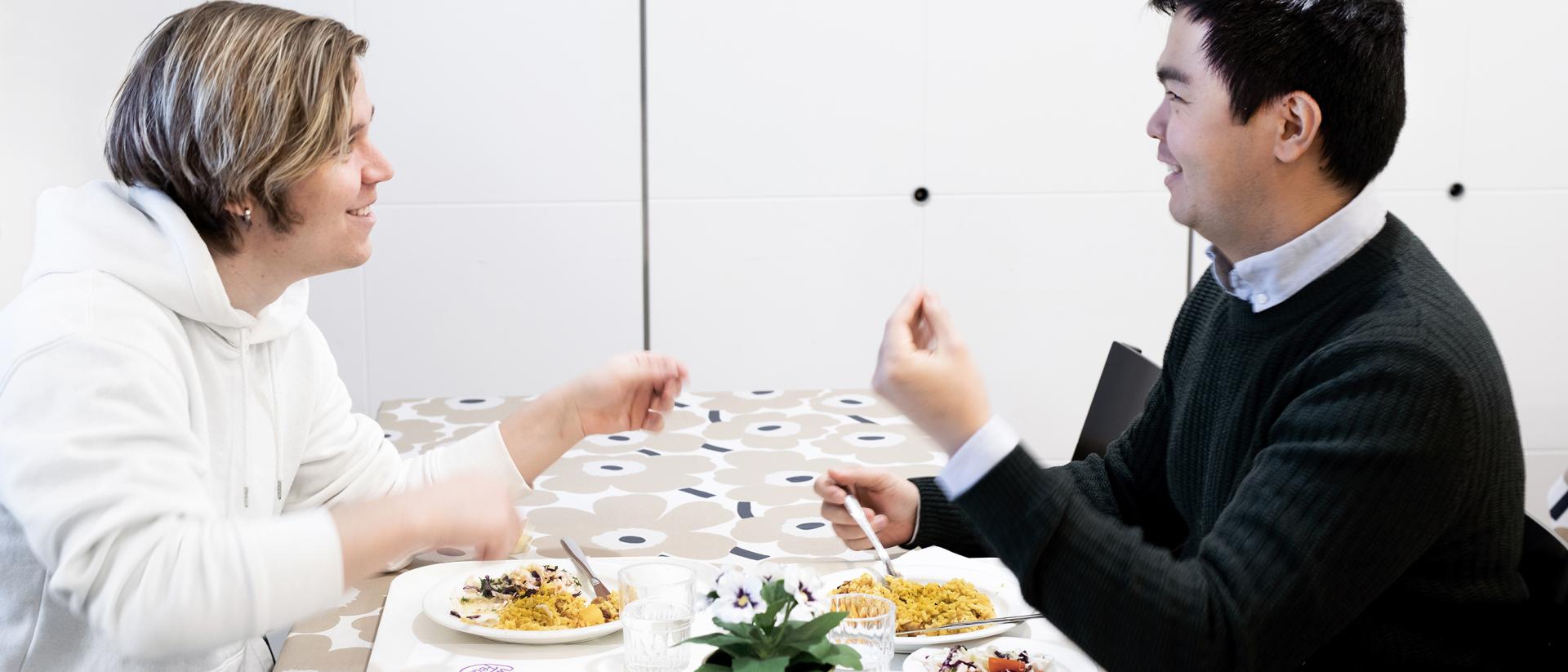 Helsinki churches offer delicious lunches and at a bargain – for just a few Euros or some even for free. Come and dine by yourself or with your friends. If you'd like some company for your meal, even that can be provided. In most places, you can also have the food as take-away. In addition, if you prefer porridge, there are porridge kitchens.
How about some dinner after work or care? There are dinners served at Alppila, Käpylä, Pihlajanmäki and Vartiokylä churches.
The Waste&Feast restaurants of the church parishes are prepared utilizing as much as possible surplus materials from grocery stores and food producers while supporting youth employment. In many other dining situations food waste and surplus is utilized. From waste to the plate, at low cost and ecologically!
Dining is open to all; you do not need to be a member of the church to enjoy these meals. We will not ask about your faith nor about your financial situation.
You can see more about the meals at this link Waste&Feast Restaurants page in Finnish (these pages will mostly be in Finnish)
You can also go to collect food from food distribution ("ruokajakelu" in Finnish) which are mentioned at the above link.
The next 10 dining opportunities are also listed here:
ewogICJlbGVtZW50LnByZXJvb3QiIDogInRydWUiLAogICJwYWlrYXQiIDogIiIsCiAgImxldHRlciIgOiAiKiIsCiAgIlhYWGVsZW1lbnQub25sb2FkIiA6ICJzZXJ2ZXIiLAogICJpbXBvcnRwYXRoIiA6ICIvd2ViY29tcG9uZW50cy9oc3JreS9hcnRpY2xlcy9hcnRpY2xlL2NvbnRlbnRlZGl0b3IvZXZlbnRsaXN0LyIsCiAgIm1vZGUiIDogInZvaWQiLAogICJlbGVtZW50LmxvYWQiIDogInNlcnZlciIsCiAgImVsZW1lbnRfbW9kZSIgOiAiIiwKICAiZWxlbWVudC5wYXRoIiA6ICJoc3JreS9hcnRpY2xlcy9hcnRpY2xlL2NvbnRlbnRlZGl0b3IvZXZlbnRsaXN0IiwKICAiSU5TVEFOQ0VJRCIgOiAicXlZMUFZb0ZzIiwKICAiY2xhc3MiIDogInBhcnNlbW9kZS12aWV3IGNvbnRlbnRlZGl0b3Itd3JhcHBlciIsCiAgImVsZW1lbnQiIDogImhzcmt5L2FydGljbGVzL2FydGljbGUvY29udGVudGVkaXRvci9ldmVudGxpc3QiLAogICJkYXRhX2xpc3RlbmVycyIgOiAiaHNya3kvYXJ0aWNsZXMvYXJ0aWNsZS9jb250ZW50ZWRpdG9yL2V2ZW50bGlzdCIsCiAgImkxOG4uYmFzZSIgOiAiaHNya3kvYXJ0aWNsZXMvYXJ0aWNsZS9jb250ZW50ZWRpdG9yL2V2ZW50bGlzdCIsCiAgImx1a3VtYWFyYSIgOiAiMTAiLAogICJlaWhha3VzYW5hIiA6ICIiLAogICJzZWN0aW9uIiA6ICJkZWZhdWx0IiwKICAic2tpbiIgOiAic2tpbnMvZXZlbnRsaXN0Lmh0bWwiLAogICJjaGFubmVsLmxhbmd1YWdlIiA6ICJmaSIsCiAgImVsZW1lbnQucHVibGljY29tcG9uZW50IiA6ICJ0cnVlIiwKICAia2F0ZWdvcmlhdCIgOiAiIiwKICAiY2FyZGNoYW5uZWwiIDogInB1YmxpYyIsCiAgImVsZW1lbnQuNiIgOiAiZmFsc2UiLAogICJlbGVtZW50LjUiIDogImZhbHNlIiwKICAic29ydGFibGUiIDogInRydWUiLAogICJ1cmxleGVjdXRlcGF0aCIgOiAiL2NoYW5uZWxzL3B1YmxpYy93d3cvaHNya3kvZW4vYXJ0aWtrZWxpIiwKICAiZWxlbWVudC5saW5rIiA6ICIvZWxlbWVudC5odG1sLnN0eCIsCiAgIlVJRCIgOiAiaWRxeVkwRUVkNTYiLAogICJvdXRwdXQucGxhaW50ZXh0IiA6ICIiLAogICJoYWt1c2FuYSIgOiAid2FzdGUmZmVhc3QiLAogICJlbGVtZW50Lm1vZGUiIDogImVsZW1lbnQiLAogICJlbGVtZW50Lmxhbmd1YWdlIiA6ICJmaSIsCiAgImVsZW1lbnQucHVibGljbGluayIgOiAiL2VsZW1lbnQuaHRtbC5zdHgiLAogICJHVUlEIiA6ICIiLAogICJlZGl0bW9kZSIgOiAidmlldyIsCiAgImNzcyIgOiAiY3NzL2V2ZW50bGlzdC5jc3MiLAogICJ2aWV3dXJsIiA6ICJodHRwczovL2hzcmt5MjAxNmNtcy1wcm9kLmFiYWtvLmZpL2Jpbi9nZXQvaWQveHdLSE1IN2dsLkRFeE5UdnpJNyIsCiAgIkNVUlJFTlRQQVRIIiA6ICIvaHNya3kvdXV0aXNldC91dXRpc2V0L3V1dGluZW4vdGVrc3RpL2hzcmt5L2FydGljbGVzL2FydGljbGUvY29udGVudGVkaXRvci9oc3JreS9hcnRpY2xlcy9hcnRpY2xlL2NvbnRlbnRlZGl0b3IvZXZlbnRsaXN0LyIsCiAgImVkaXR1cmwiIDogImh0dHBzOi8vaHNya3kyMDE2Y21zLXByb2QuYWJha28uZmkvYmluL2dldC9laWQveHdLSE1IN2dsLkRFeE5UdnpJNyIsCiAgInB1YmxpY3VybCIgOiAiL2VsZW1lbnQuaHRtbC5zdHgiLAogICJlbGVtZW50LmNvbXBvbmVudCIgOiAidHJ1ZSIsCiAgInRhYiIgOiAicGVyc29ucyIsCiAgInJlbW92YWJsZSIgOiAidHJ1ZSIsCiAgIiIgOiAiIgp9
ewogICJlbGVtZW50IiA6ICJoc3JreS91dXRpc2V0L3V1dGlzZXQvdXV0aW5lbi9qYWEiLAogICJlbGVtZW50X21vZGUiIDogIiIsCiAgImVsZW1lbnQuY29tcG9uZW50IiA6ICJ0cnVlIiwKICAiaTE4bi5qYWEiIDogIkphYSIsCiAgImVsZW1lbnQuNiIgOiAiZmFsc2UiLAogICJlbGVtZW50LjUiIDogImZhbHNlIiwKICAic2VjdGlvbiIgOiAiZGVmYXVsdCIsCiAgImVsZW1lbnQucHVibGljbGluayIgOiAiL2VsZW1lbnQuaHRtbC5zdHgiLAogICJpbXBvcnRwYXRoIiA6ICIvd2ViY29tcG9uZW50cy9oc3JreS91dXRpc2V0L3V1dGlzZXQvdXV0aW5lbi9qYWEvIiwKICAia29rbyIgOiAiOCIsCiAgIlVJRCIgOiAiaWRxeVRBQTkwVEkiLAogICJlbGVtZW50LmJhc2UubGlzdCIgOiAiL21vZHVsZXNiYXNlL2VsZW1lbnRzL2hzcmt5L2phYSIsCiAgImNzcyIgOiAiY3NzL2phYS5jc3MiLAogICJFbGVtZW50LkJhc2UiIDogImhzcmt5L2phYSIsCiAgImRhdGFfbGlzdGVuZXJzIiA6ICJoc3JreS91dXRpc2V0L3V1dGlzZXQvdXV0aW5lbi9qYWEiLAogICJjYXJkY2hhbm5lbCIgOiAicHVibGljIiwKICAiZWxlbWVudC5iYXNlIiA6ICJoc3JreS9qYWEiLAogICJDVVJSRU5UUEFUSCIgOiAiL2hzcmt5L3V1dGlzZXQvdXV0aXNldC91dXRpbmVuL2phYS8iLAogICJ1cmxleGVjdXRlcGF0aCIgOiAiL2NoYW5uZWxzL3B1YmxpYy93d3cvaHNya3kvZW4vYXJ0aWtrZWxpIiwKICAiZWxlbWVudC5saW5rIiA6ICIvZWxlbWVudC5odG1sLnN0eCIsCiAgInNob3J0dXJsIiA6ICJ0cnVlIiwKICAic2tpbiIgOiAic2tpbnMvamFhLmh0bWwiLAogICJlbGVtZW50LmxvYWQiIDogInNlcnZlciIsCiAgIlhYWGVsZW1lbnQub25sb2FkIiA6ICJzZXJ2ZXIiLAogICJJTlNUQU5DRUlEIiA6ICJxeVRCSkdqUkEiLAogICJjaGFubmVsLmxhbmd1YWdlIiA6ICJmaSIsCiAgImVsZW1lbnQubW9kZSIgOiAiZWxlbWVudCIsCiAgImVsZW1lbnQucGF0aCIgOiAiaHNya3kvdXV0aXNldC91dXRpc2V0L3V1dGluZW4vamFhIiwKICAiZWxlbWVudC5sYW5ndWFnZSIgOiAiZmkiLAogICJpMThuLmJhc2UiIDogImhzcmt5L3V1dGlzZXQvdXV0aXNldC91dXRpbmVuL2phYSIsCiAgImVkaXR1cmwiIDogImh0dHBzOi8vaHNya3kyMDE2Y21zLXByb2QuYWJha28uZmkvYmluL2dldC9laWQveHdLSE1IN2dsLkRFeE5UdnpJNyIsCiAgInB1YmxpY3VybCIgOiAiL2VsZW1lbnQuaHRtbC5zdHgiLAogICIiIDogIiIsCiAgIkdVSUQiIDogIiIsCiAgInZpZXd1cmwiIDogImh0dHBzOi8vaHNya3kyMDE2Y21zLXByb2QuYWJha28uZmkvYmluL2dldC9pZC94d0tITUg3Z2wuREV4TlR2ekk3Igp9