Kaksikieliset messut Viikin kirkossa | Bilingual Services at Viikki Church
Malmi parish
08.01.2020, 12:19 /
updated 02.09.2020, 09:55
Tervetuloa kaksikielisiin messuihin jälleen syksyllä 2020! Welcome to bilingual Services (Finnish-English)!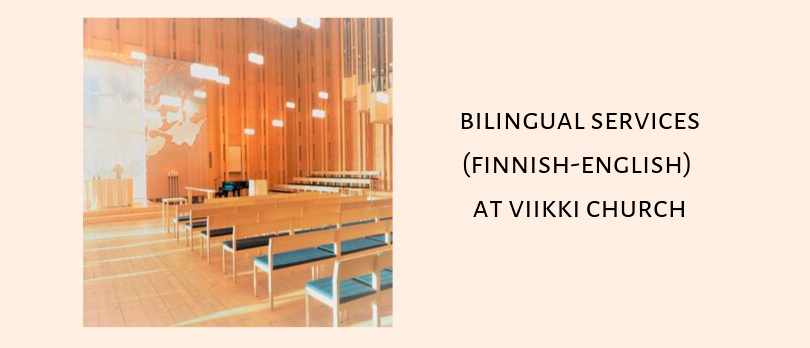 Kaksikieliset messut Viikin kirkossa / Bilingual Services at Viikki Church
Viikissä pidetään kerran kuussa kaksikielinen messu (suomi/englanti), johon erityisesti toivotetaan tervetulleeksi Viikin alueen kansainvälistä väkeä. Messussa käytetään suomea ja englantia tasapuolisesti ja veisataan, rukoillaan ja luetaan kahdella kielellä. Näin kukaan ei tarvitse kokea itsensä ulkopuoliseksi. Kaksikielisistä messuista vastaa pääkaupunkiseudun englanninkielisen seurakuntatyön pastori Hans Krause yhdessä Malmin seurakunnan kanssa.
Once a month, we hold a bilingual (English/Finnish) worship service in Viikki Church, to which we especially welcome all members of the international community in Viikki. We use a balanced mix of English and Finnish, and we pray, sing and read in both languages, so that nobody needs to feel excluded. Hans Krause, pastor for ministry in English for the Metropolitan Area, leads and preaches in cooperation with the Malmi parish.
Welcome to Sunday service at Viikki Church! Bilingual services will take place:
20 September 10 am
18 October 10 am
15 November 10 am
13 December 10 am
Invite your friends as well!
More information about international activities here
or
please contact minna-sisko.makinen@evl.fi / tel. 050 369 1004.
ewogICJlbGVtZW50LnByZXJvb3QiIDogInRydWUiLAogICJwYWlrYXQiIDogInJlZmVyZW5jZTpHQXhuc0x3cGIiLAogICJsZXR0ZXIiIDogIioiLAogICJYWFhlbGVtZW50Lm9ubG9hZCIgOiAic2VydmVyIiwKICAiaW1wb3J0cGF0aCIgOiAiL3dlYmNvbXBvbmVudHMvaHNya3kvYXJ0aWNsZXMvYXJ0aWNsZS9jb250ZW50ZWRpdG9yL2V2ZW50bGlzdC8iLAogICJtb2RlIiA6ICJ2b2lkIiwKICAiZWxlbWVudC5sb2FkIiA6ICJzZXJ2ZXIiLAogICJlbGVtZW50X21vZGUiIDogIiIsCiAgImVsZW1lbnQucGF0aCIgOiAiaHNya3kvYXJ0aWNsZXMvYXJ0aWNsZS9jb250ZW50ZWRpdG9yL2V2ZW50bGlzdCIsCiAgIklOU1RBTkNFSUQiIDogIjA1VE04OVoySiIsCiAgImNsYXNzIiA6ICJwYXJzZW1vZGUtdmlldyBjb250ZW50ZWRpdG9yLXdyYXBwZXIiLAogICJlbGVtZW50IiA6ICJoc3JreS9hcnRpY2xlcy9hcnRpY2xlL2NvbnRlbnRlZGl0b3IvZXZlbnRsaXN0IiwKICAiZGF0YV9saXN0ZW5lcnMiIDogImhzcmt5L2FydGljbGVzL2FydGljbGUvY29udGVudGVkaXRvci9ldmVudGxpc3QiLAogICJpMThuLmJhc2UiIDogImhzcmt5L2FydGljbGVzL2FydGljbGUvY29udGVudGVkaXRvci9ldmVudGxpc3QiLAogICJsdWt1bWFhcmEiIDogIjUiLAogICJlaWhha3VzYW5hIiA6ICIiLAogICJzZWN0aW9uIiA6ICJkZWZhdWx0IiwKICAic2tpbiIgOiAic2tpbnMvZXZlbnRsaXN0Lmh0bWwiLAogICJjaGFubmVsLmxhbmd1YWdlIiA6ICJmaSIsCiAgImVsZW1lbnQucHVibGljY29tcG9uZW50IiA6ICJ0cnVlIiwKICAia2F0ZWdvcmlhdCIgOiAicmVmZXJlbmNlOjQxblpQZmVEWixyZWZlcmVuY2U6MFM1ZW9TeHBCLHJlZmVyZW5jZTo0MzNYa3BETWYiLAogICJjYXJkY2hhbm5lbCIgOiAicHVibGljIiwKICAiZWxlbWVudC42IiA6ICJmYWxzZSIsCiAgImVsZW1lbnQuNSIgOiAiZmFsc2UiLAogICJzb3J0YWJsZSIgOiAidHJ1ZSIsCiAgInVybGV4ZWN1dGVwYXRoIiA6ICIvY2hhbm5lbHMvcHVibGljL3d3dy9oc3JreS9maS9pbmRleC91dXRpc2V0L1M2MFJ4alF3eiIsCiAgImVsZW1lbnQubGluayIgOiAiL2VsZW1lbnQuaHRtbC5zdHgiLAogICJVSUQiIDogImlkMDVUVWlXc2pMIiwKICAib3V0cHV0LnBsYWludGV4dCIgOiAiIiwKICAiaGFrdXNhbmEiIDogImJpbGluZ3VhbCIsCiAgImVsZW1lbnQubW9kZSIgOiAiZWxlbWVudCIsCiAgImVsZW1lbnQubGFuZ3VhZ2UiIDogImZpIiwKICAiZWxlbWVudC5wdWJsaWNsaW5rIiA6ICIvZWxlbWVudC5odG1sLnN0eCIsCiAgIkdVSUQiIDogIiIsCiAgImVkaXRtb2RlIiA6ICJ2aWV3IiwKICAiY3NzIiA6ICJjc3MvZXZlbnRsaXN0LmNzcyIsCiAgInZpZXd1cmwiIDogImh0dHBzOi8vaHNya3kyMDE2Y21zLXByb2QuYWJha28uZmkvYmluL2dldC92aWQvUzYwN0c0VHgzLlM1d21qZmVodC5ERXhOVHZ6STciLAogICJDVVJSRU5UUEFUSCIgOiAiL2hzcmt5L3V1dGlzZXQvdXV0aXNldC91dXRpbmVuL3Rla3N0aS9oc3JreS9hcnRpY2xlcy9hcnRpY2xlL2NvbnRlbnRlZGl0b3IvaHNya3kvYXJ0aWNsZXMvYXJ0aWNsZS9jb250ZW50ZWRpdG9yL2V2ZW50bGlzdC8iLAogICJlZGl0dXJsIiA6ICJodHRwczovL2hzcmt5MjAxNmNtcy1wcm9kLmFiYWtvLmZpL2Jpbi9nZXQvdmVkL1M2MDdHNFR4My5TNXdtamZlaHQuREV4TlR2ekk3IiwKICAicHVibGljdXJsIiA6ICIvZWxlbWVudC5odG1sLnN0eCIsCiAgImVsZW1lbnQuY29tcG9uZW50IiA6ICJ0cnVlIiwKICAidGFiIiA6ICJwZXJzb25zIiwKICAicmVtb3ZhYmxlIiA6ICJ0cnVlIiwKICAiIiA6ICIiCn0=
ewogICJlbGVtZW50IiA6ICJoc3JreS91dXRpc2V0L3V1dGlzZXQvdXV0aW5lbi9qYWEiLAogICJlbGVtZW50X21vZGUiIDogIiIsCiAgImVsZW1lbnQuY29tcG9uZW50IiA6ICJ0cnVlIiwKICAiaTE4bi5qYWEiIDogIkphYSIsCiAgImVsZW1lbnQuNiIgOiAiZmFsc2UiLAogICJlbGVtZW50LjUiIDogImZhbHNlIiwKICAic2VjdGlvbiIgOiAiZGVmYXVsdCIsCiAgImVsZW1lbnQucHVibGljbGluayIgOiAiL2VsZW1lbnQuaHRtbC5zdHgiLAogICJpbXBvcnRwYXRoIiA6ICIvd2ViY29tcG9uZW50cy9oc3JreS91dXRpc2V0L3V1dGlzZXQvdXV0aW5lbi9qYWEvIiwKICAia29rbyIgOiAiOCIsCiAgIlVJRCIgOiAiaWQwNWZJcm5uNloiLAogICJlbGVtZW50LmJhc2UubGlzdCIgOiAiL21vZHVsZXNiYXNlL2VsZW1lbnRzL2hzcmt5L2phYSIsCiAgImNzcyIgOiAiY3NzL2phYS5jc3MiLAogICJFbGVtZW50LkJhc2UiIDogImhzcmt5L2phYSIsCiAgImRhdGFfbGlzdGVuZXJzIiA6ICJoc3JreS91dXRpc2V0L3V1dGlzZXQvdXV0aW5lbi9qYWEiLAogICJjYXJkY2hhbm5lbCIgOiAicHVibGljIiwKICAiZWxlbWVudC5iYXNlIiA6ICJoc3JreS9qYWEiLAogICJDVVJSRU5UUEFUSCIgOiAiL2hzcmt5L3V1dGlzZXQvdXV0aXNldC91dXRpbmVuL2phYS8iLAogICJ1cmxleGVjdXRlcGF0aCIgOiAiL2NoYW5uZWxzL3B1YmxpYy93d3cvaHNya3kvZmkvaW5kZXgvdXV0aXNldC9TNjBSeGpRd3oiLAogICJlbGVtZW50LmxpbmsiIDogIi9lbGVtZW50Lmh0bWwuc3R4IiwKICAic2hvcnR1cmwiIDogInRydWUiLAogICJza2luIiA6ICJza2lucy9qYWEuaHRtbCIsCiAgImVsZW1lbnQubG9hZCIgOiAic2VydmVyIiwKICAiWFhYZWxlbWVudC5vbmxvYWQiIDogInNlcnZlciIsCiAgIklOU1RBTkNFSUQiIDogIjA1ZkN5QkRraCIsCiAgImNoYW5uZWwubGFuZ3VhZ2UiIDogImZpIiwKICAiZWxlbWVudC5tb2RlIiA6ICJlbGVtZW50IiwKICAiZWxlbWVudC5wYXRoIiA6ICJoc3JreS91dXRpc2V0L3V1dGlzZXQvdXV0aW5lbi9qYWEiLAogICJlbGVtZW50Lmxhbmd1YWdlIiA6ICJmaSIsCiAgImkxOG4uYmFzZSIgOiAiaHNya3kvdXV0aXNldC91dXRpc2V0L3V1dGluZW4vamFhIiwKICAiZWRpdHVybCIgOiAiaHR0cHM6Ly9oc3JreTIwMTZjbXMtcHJvZC5hYmFrby5maS9iaW4vZ2V0L3ZlZC9TNjA3RzRUeDMuUzV3bWpmZWh0LkRFeE5UdnpJNyIsCiAgInB1YmxpY3VybCIgOiAiL2VsZW1lbnQuaHRtbC5zdHgiLAogICIiIDogIiIsCiAgIkdVSUQiIDogIiIsCiAgInZpZXd1cmwiIDogImh0dHBzOi8vaHNya3kyMDE2Y21zLXByb2QuYWJha28uZmkvYmluL2dldC92aWQvUzYwN0c0VHgzLlM1d21qZmVodC5ERXhOVHZ6STciCn0=