English confirmation school in summer 2021
Parishes
30.09.2019, 09:27 /
updated 03.09.2020, 15:36
Summer 2021 is still far away! Welcome to the first ever English confirmation camp in Tuusjärvi. Registration to confirmation school is in October 2020.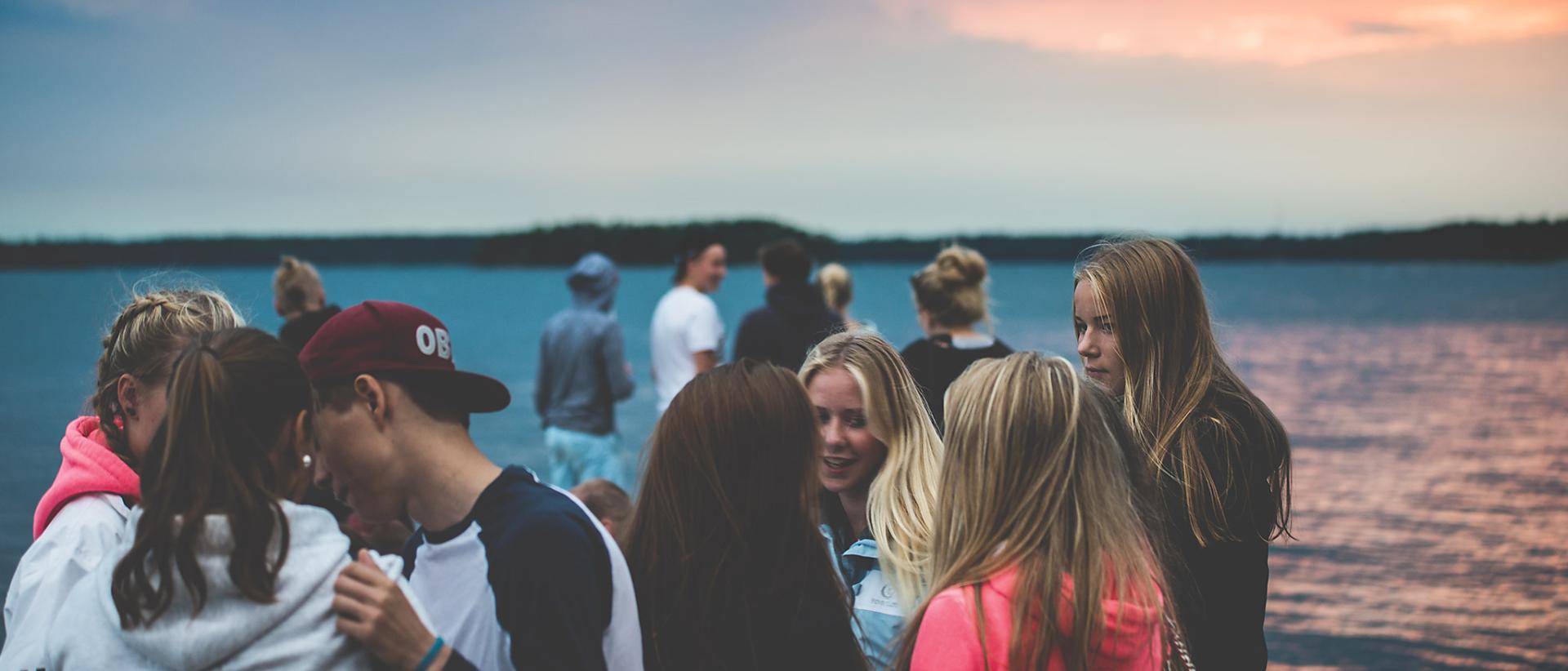 Starting 1.10.2020 you can sign up for the confirmation camps of the Helsinki Lutheran parishes for next summer. This year, you also have the possibility to register for the first ever English confirmation camp in Tuusjärvi, 150 km northeast from Helsinki. The confirmation school is organised and held by pastor Kristian Willis of St. Matthew's International Lutheran Church, meeting in Itäkeskus and staff of the Roihuvuori Lutheran Parish almost next door. During the winter and spring of 2021, the confirmation students will gather in Helsinki with pastor Kristian and the other leaders for various get-to-know-you events plus some introductory lessons. The confirmation camp will be held at the beautiful Tuusjärvi Mansion from 28 June to 5 July 2021.
The aim of the confirmation school is to take some time to deepen our understanding of God. We'll be doing this in an interactive, fun and yet deeply spiritual way through lessons, music etc.
If you are 14 to 17 years old, speak English, are interested in the Christian faith, and up for a lot of fun, you should definitely sign up for the English confirmation camp next summer. Talk to pastor Kristian for more information and registration.
Hoping to see you there!
ewogICJlbGVtZW50IiA6ICJoc3JreS91dXRpc2V0L3V1dGlzZXQvdXV0aW5lbi9qYWEiLAogICJlbGVtZW50X21vZGUiIDogIiIsCiAgImVsZW1lbnQuY29tcG9uZW50IiA6ICJ0cnVlIiwKICAiaTE4bi5qYWEiIDogIkphYSIsCiAgImVsZW1lbnQuNiIgOiAiZmFsc2UiLAogICJlbGVtZW50LjUiIDogImZhbHNlIiwKICAic2VjdGlvbiIgOiAiZGVmYXVsdCIsCiAgImVsZW1lbnQucHVibGljbGluayIgOiAiL2VsZW1lbnQuaHRtbC5zdHgiLAogICJpbXBvcnRwYXRoIiA6ICIvd2ViY29tcG9uZW50cy9oc3JreS91dXRpc2V0L3V1dGlzZXQvdXV0aW5lbi9qYWEvIiwKICAia29rbyIgOiAiOCIsCiAgIlVJRCIgOiAiaWR0UUw2TUJONkIiLAogICJlbGVtZW50LmJhc2UubGlzdCIgOiAiL21vZHVsZXNiYXNlL2VsZW1lbnRzL2hzcmt5L2phYSIsCiAgImNzcyIgOiAiY3NzL2phYS5jc3MiLAogICJFbGVtZW50LkJhc2UiIDogImhzcmt5L2phYSIsCiAgImRhdGFfbGlzdGVuZXJzIiA6ICJoc3JreS91dXRpc2V0L3V1dGlzZXQvdXV0aW5lbi9qYWEiLAogICJjYXJkY2hhbm5lbCIgOiAicHVibGljIiwKICAiZWxlbWVudC5iYXNlIiA6ICJoc3JreS9qYWEiLAogICJDVVJSRU5UUEFUSCIgOiAiL2hzcmt5L3V1dGlzZXQvdXV0aXNldC91dXRpbmVuL2phYS8iLAogICJ1cmxleGVjdXRlcGF0aCIgOiAiL2NoYW5uZWxzL3B1YmxpYy93d3cvaHNya3kvZmkvaW5kZXgvdXV0aXNldC95YXlDZFBjdFQiLAogICJlbGVtZW50LmxpbmsiIDogIi9lbGVtZW50Lmh0bWwuc3R4IiwKICAic2hvcnR1cmwiIDogInRydWUiLAogICJza2luIiA6ICJza2lucy9qYWEuaHRtbCIsCiAgImVsZW1lbnQubG9hZCIgOiAic2VydmVyIiwKICAiWFhYZWxlbWVudC5vbmxvYWQiIDogInNlcnZlciIsCiAgIklOU1RBTkNFSUQiIDogInRRS3p3WldBTiIsCiAgImNoYW5uZWwubGFuZ3VhZ2UiIDogImZpIiwKICAiZWxlbWVudC5tb2RlIiA6ICJlbGVtZW50IiwKICAiZWxlbWVudC5wYXRoIiA6ICJoc3JreS91dXRpc2V0L3V1dGlzZXQvdXV0aW5lbi9qYWEiLAogICJlbGVtZW50Lmxhbmd1YWdlIiA6ICJmaSIsCiAgImkxOG4uYmFzZSIgOiAiaHNya3kvdXV0aXNldC91dXRpc2V0L3V1dGluZW4vamFhIiwKICAiZWRpdHVybCIgOiAiaHR0cHM6Ly9oc3JreTIwMTZjbXMtcHJvZC5hYmFrby5maS9iaW4vZ2V0L3ZlZC95YXlrRXNNZjEueWIxdEswM0doLkRFeE5UdnpJNyIsCiAgInB1YmxpY3VybCIgOiAiL2VsZW1lbnQuaHRtbC5zdHgiLAogICIiIDogIiIsCiAgIkdVSUQiIDogIiIsCiAgInZpZXd1cmwiIDogImh0dHBzOi8vaHNya3kyMDE2Y21zLXByb2QuYWJha28uZmkvYmluL2dldC92aWQveWF5a0VzTWYxLnliMXRLMDNHaC5ERXhOVHZ6STciCn0=