English Confirmation School in 2023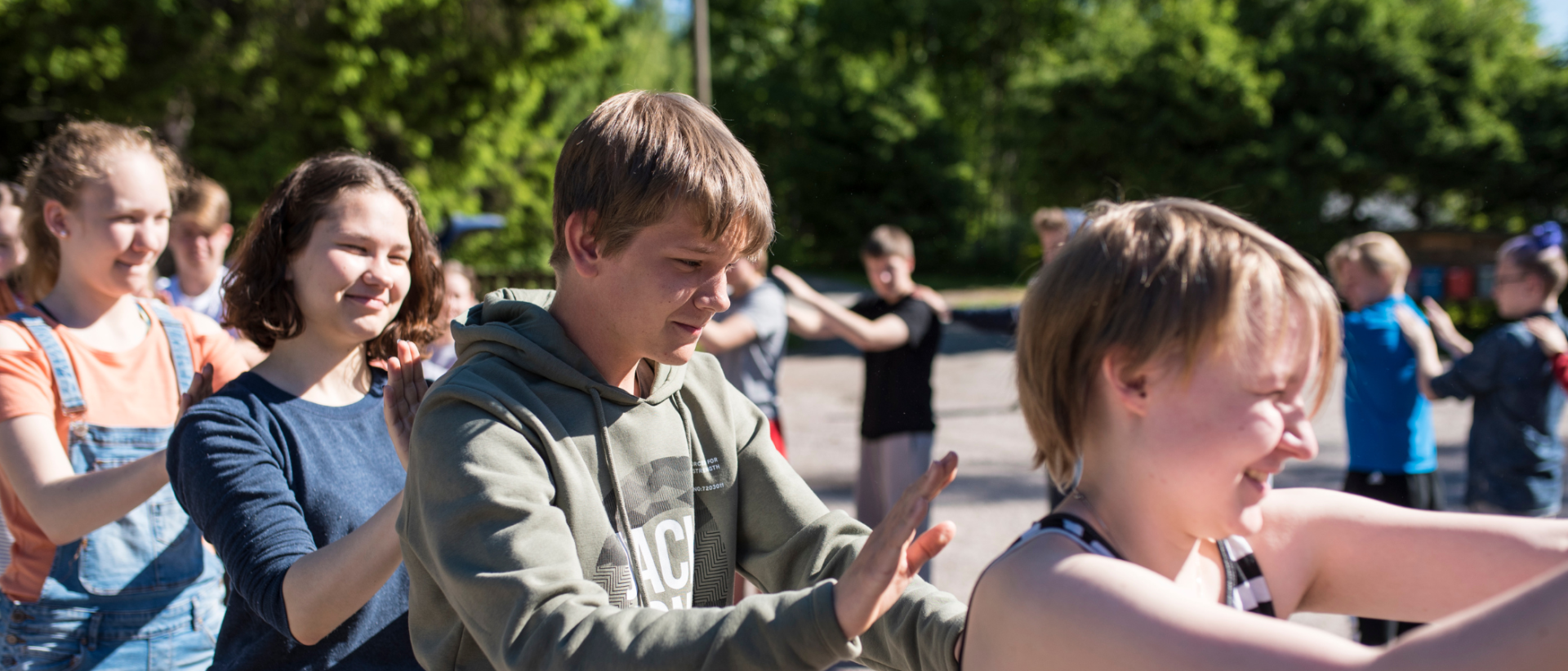 What if I would like to go to a confimation school but don´t speak Finnish? Or want a more international experience? English Confirmation School 2023 is the answer!
Olari parish (Espoo), Matteus församling (Helsinki) and St. Matthew's International Lutheran Church together organize an English Confirmation School in Hvittorp, Kirkkonummi 31.7.-6.8.2023. Confirmation is in Olari Church, Espoo August 6th at 2 p.m..
The Confirmation School costs 180 euros. For details, please contact pastor anna.poutiainen@evl.fi, tel. 050 308 0803.
Enrollments will be made through the online service of the Parishes of Espoo.
Photo: Marianna Siitonen
ewogICJlbGVtZW50IiA6ICJoc3JreS91dXRpc2V0L3V1dGlzZXQvdXV0aW5lbi9qYWEiLAogICJlbGVtZW50X21vZGUiIDogIiIsCiAgImVsZW1lbnQuY29tcG9uZW50IiA6ICJ0cnVlIiwKICAiaTE4bi5qYWEiIDogIkphYSIsCiAgImVsZW1lbnQuNiIgOiAiZmFsc2UiLAogICJlbGVtZW50LjUiIDogImZhbHNlIiwKICAic2VjdGlvbiIgOiAiZGVmYXVsdCIsCiAgImVsZW1lbnQucHVibGljbGluayIgOiAiL2VsZW1lbnQuaHRtbC5zdHgiLAogICJpbXBvcnRwYXRoIiA6ICIvd2ViY29tcG9uZW50cy9oc3JreS91dXRpc2V0L3V1dGlzZXQvdXV0aW5lbi9qYWEvIiwKICAia29rbyIgOiAiOCIsCiAgIlVJRCIgOiAiaWRhM3JQVjRiRmciLAogICJlbGVtZW50LmJhc2UubGlzdCIgOiAiL21vZHVsZXNiYXNlL2VsZW1lbnRzL2hzcmt5L2phYSIsCiAgImNzcyIgOiAiY3NzL2phYS5jc3MiLAogICJFbGVtZW50LkJhc2UiIDogImhzcmt5L2phYSIsCiAgImRhdGFfbGlzdGVuZXJzIiA6ICJoc3JreS91dXRpc2V0L3V1dGlzZXQvdXV0aW5lbi9qYWEiLAogICJjYXJkY2hhbm5lbCIgOiAicHVibGljIiwKICAiZWxlbWVudC5iYXNlIiA6ICJoc3JreS9qYWEiLAogICJDVVJSRU5UUEFUSCIgOiAiL2hzcmt5L3V1dGlzZXQvdXV0aXNldC91dXRpbmVuL2phYS8iLAogICJ1cmxleGVjdXRlcGF0aCIgOiAiL2NoYW5uZWxzL3B1YmxpYy93d3cvaHNya3kvZW4vYXJ0aWtrZWxpIiwKICAiZWxlbWVudC5saW5rIiA6ICIvZWxlbWVudC5odG1sLnN0eCIsCiAgInNob3J0dXJsIiA6ICJ0cnVlIiwKICAic2tpbiIgOiAic2tpbnMvamFhLmh0bWwiLAogICJlbGVtZW50LmxvYWQiIDogInNlcnZlciIsCiAgIlhYWGVsZW1lbnQub25sb2FkIiA6ICJzZXJ2ZXIiLAogICJJTlNUQU5DRUlEIiA6ICJhM3JPRDBVSEkiLAogICJjaGFubmVsLmxhbmd1YWdlIiA6ICJmaSIsCiAgImVsZW1lbnQubW9kZSIgOiAiZWxlbWVudCIsCiAgImVsZW1lbnQucGF0aCIgOiAiaHNya3kvdXV0aXNldC91dXRpc2V0L3V1dGluZW4vamFhIiwKICAiZWxlbWVudC5sYW5ndWFnZSIgOiAiZmkiLAogICJpMThuLmJhc2UiIDogImhzcmt5L3V1dGlzZXQvdXV0aXNldC91dXRpbmVuL2phYSIsCiAgImVkaXR1cmwiIDogImh0dHBzOi8vaHNya3kyMDE2Y21zLXByb2QuYWJha28uZmkvYmluL2dldC9laWQveHdLSE1IN2dsLkRFeE5UdnpJNyIsCiAgInB1YmxpY3VybCIgOiAiL2VsZW1lbnQuaHRtbC5zdHgiLAogICIiIDogIiIsCiAgIkdVSUQiIDogIiIsCiAgInZpZXd1cmwiIDogImh0dHBzOi8vaHNya3kyMDE2Y21zLXByb2QuYWJha28uZmkvYmluL2dldC9pZC94d0tITUg3Z2wuREV4TlR2ekk3Igp9