Presidentti Martti Ahtisaaren siunaustilaisuus Helsingin tuomiokirkossa 10.11. klo 13
03.11.2023, 09:47 /
updated 06.11.2023, 14:50
Presidentti Martti Ahtisaaren siunaustilaisuus alkaa perjantaina 10.11. klo 13 Helsingin tuomiokirkossa ja päättyy klo 14.30. Myös yleisöllä on mahdollisuus osallistua siunaustilaisuuteen.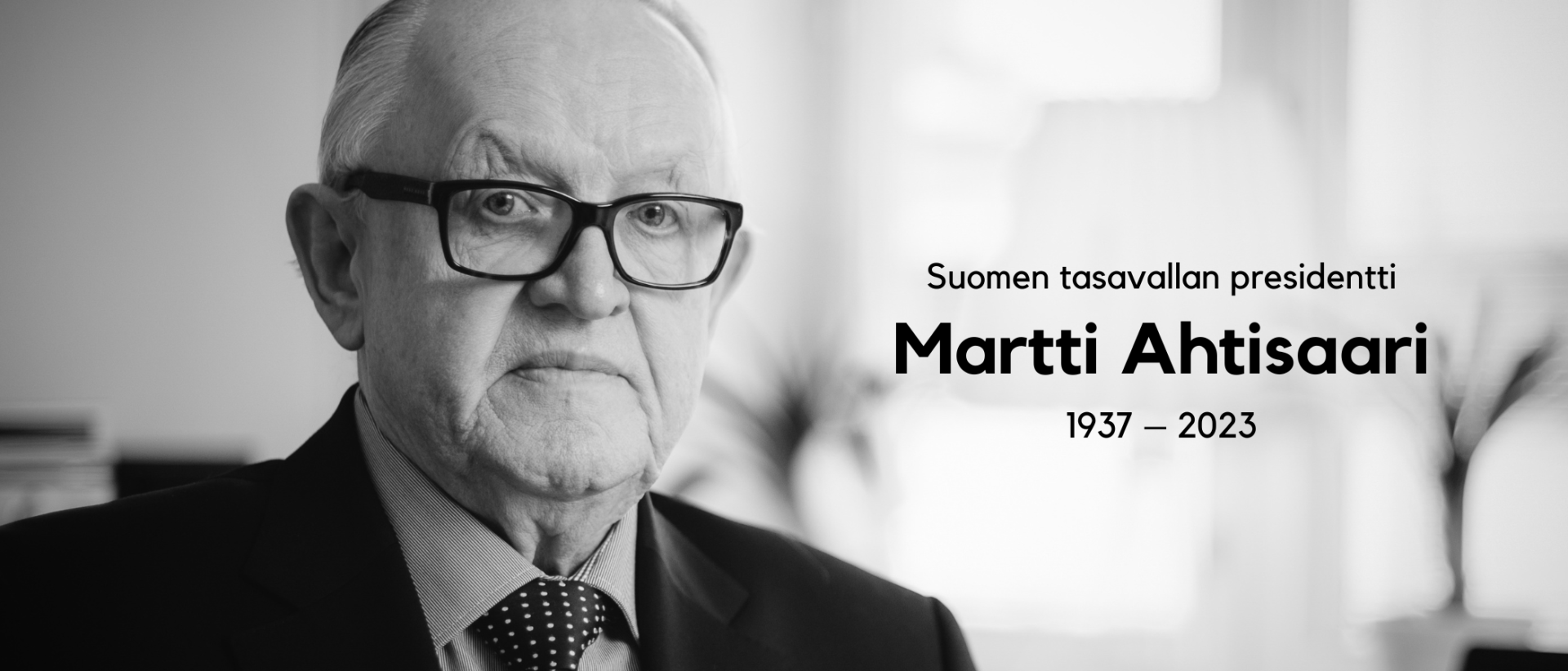 Emerituspiispa Eero Huovinen toimittaa presidentti Ahtisaaren hautaan siunaamisen. Hänen avustajinaan toimivat piispa Teemu Laajasalo sekä Dora Puhakka. Tasavallan presidentti Sauli Niinistö pitää tilaisuuden muistopuheen.
Siunaustilaisuudessa kuullaan presidentti Ahtisaaren perheelle merkityksellisiä kappaleita ja esiintyjiä perinteitä unohtamatta. Tuomiokirkossa esiintyvät Helsingin tuomiokirkon poikakuoron Cantores Minoresin ja Kaartin soittokunnan lisäksi sellisti Senja Rummukainen, saksofonisti Jukka Perko, kitaristi Jarmo Saari sekä Radion Sinfoniaorkesterin sellot.
Presidentti Martti Ahtisaaren valtiollisiin hautajaisiin Helsinkiin perjantaina 10. marraskuuta odotetaan yli 800 kutsuvierasta. Valtiollisen protokollan ohella hautajaisten kutsuvieraissa näkyy myös presidentti Ahtisaaren vuosikymmenten mittainen kansainvälinen ura.
Myös yleisöllä on mahdollisuus osallistua siunaustilaisuuteen
Myös yleisöllä on mahdollisuus osallistua siunaustilaisuuteen. Sisäänkäynti kirkkoon tapahtuu Senaatintorin puolelta klo 11.30 alkaen. Kirkossa pyydetään olemaan paikoillaan viimeistään klo 12.15. Pyydämme ottamaan huomioon, että kirkossa on paikkoja rajoitetusti. Yleisöä pyydetään jättämään suuret kantamukset kotiin ja varautumaan turvatarkastukseen. Kuvaaminen kirkossa on kielletty.
Surusaatto Helsingin tuomiokirkolta Hietaniemeen
Surusaatto lähtee Helsingin tuomiokirkolta siunaustilaisuuden jälkeen noin klo 14.45. Surusaatto kulkee ratsupoliisien vetämänä autosaattueena tuomiokirkolta Hietaniemen hautausmaalle pysähtyen Presidentinlinnan edustalla yhden minuutin ajaksi.
Kansalaiset ovat lämpimästi tervetulleita seuraamaan surusaattoa, joka kulkee seuraavaa reittiä: Unioninkatu, Aleksanterinkatu (Meritullintorin suuntaan, kiertää Päävartion), Pohjoisesplanadi, Unioninkatu (kiertää Presidentinlinnan), Aleksanterinkatu, Mannerheimintie, Arkadiankatu, Pohjoinen Rautatiekatu, Mechelininkatu ja Hietaniemen hautausmaan poikki vanhan kappelin portilta Hietaniemen uudelle kappelille.
Kaikki Helsingin kirkonkellot soivat noin 45 minuuttia kestävän surusaaton ajan. Kun surusaatto saapuu Hietaniemen kappelin läheisyyteen, muiden kellojen soitto päättyy ja Hietaniemen kappelin kellonsoitto alkaa.
Helsingin keskustassa on poikkeuksellisia liikennejärjestelyjä surusaaton aikana. Liikennejärjestelyistä kertovat tarkemmin Poliisi ja Helsingin kaupunki.
Hautaanlasku ja muistotilaisuus
Presidentti Ahtisaari haudataan Hietaniemen hautausmaalle alueelle, jossa sijaitsee myös muiden presidenttien hautoja. Hautaan lasku alkaa Hietaniemessä noin klo 15.45 ja kestää puoli tuntia. Hautaan laskuun osallistuvat presidentti Ahtisaaren lähiomaiset ja ylin valtiojohto.
Presidentti Martti Ahtisaari menehtyi maanantaina 16.10. Helsingissä. Hän oli kuollessaan 86-vuotias. Ahtisaari toimi Suomen tasavallan presidenttinä vuosina 1994–2000.
The funeral service for former president Ahtisaari at Helsinki Cathedral
The funeral service for former president Ahtisaari at Helsinki Cathedral will begin at 13.00 and end at 14.30.
The service will be conducted by Bishop Emeritus Eero Huovinen with assistance from Bishop Teemu Laajasalo and Dora Puhakka. President of the Republic Sauli Niinistö will deliver the eulogy.
The funeral service will feature songs and performers with a special meaning for the Ahtisaari family while also honouring tradition. The service will include performances by Helsinki Cathedral Boys' Choir Cantores Minores and the Guards Band, along with cellist Senja Rummukainen, saxophonist Jukka Perko, guitarist Jarmo Saari and the cellists from the Finnish Radio Symphony Orchestra.
Members of the public are also welcome to attend the service. Entrance to the Cathedral will take place from the Senate Square side of the building starting at 11.30. Guests are asked to arrive so as to be seated by 12.15 at the latest. Please note that seating is limited in the Cathedral. Members of the public are requested to leave large belongings at home and be prepared for a security check. It is not permitted to take photos or videos inside the Cathedral.
Funeral cortege from Helsinki Cathedral to Hietaniemi Cemetery
After the service, the funeral cortege will leave Helsinki Cathedral at about 14.45. The cortege will be led by the mounted police and will proceed as a motorcade from Helsinki Cathedral to Hietaniemi Cemetery, stopping outside the Presidential Palace for one minute.
Citizens are warmly welcome to watch the cortege as it proceeds along the following route: Unioninkatu, Aleksanterinkatu (towards Meritullintori, around the Main Guard building), Pohjoisesplanadi, Unioninkatu (around the Presidential Palace), Aleksanterinkatu, Mannerheimintie, Arkadiankatu, Pohjoinen Rautatiekatu, Mechelininkatu and across Hietaniemi Cemetery from the Old Chapel gate to the New Chapel.
Bells will be rung by all churches in Helsinki for the duration of the cortege, around 45 minutes. Once the cortege approaches Hietaniemi Chapel, the bell ringing at the other churches will cease and the bells of Hietaniemi Chapel will be rung.
There will be exceptional traffic arrangements in the Helsinki city centre during the cortege. The police and the City of Helsinki will provide more detailed information about the arrangements.
Burial and memorial ceremony
Former president Ahtisaari will be laid to rest at Hietaniemi Cemetery in the same area where other presidents' graves are also located. The burial will begin at about 15.45 and will last half an hour. The burial will be attended by former president Ahtisaari's next of kin and the highest state leadership.
Former president Martti Ahtisaari passed away on Monday 16 October in Helsinki. He was 86 years old. Ahtisaari was President of the Republic of Finland from 1994 to 2000.
President Ahtisaaris jordfästning i Helsingfors domkyrka
President Ahtisaaris jordfästning i Helsingfors domkyrka börjar klockan 13 och slutar klockan 14.30.
På programmet står musiker och musikstycken som är viktiga för president Ahtisaaris familj, utan att glömma traditionerna. I domkyrkan uppträder förutom Helsingfors domkyrkas gosskör Cantores Minores och Gardets musikkår också cellisten Senja Rummukainen, saxofonisten Jukka Perko, gitarristen Jarmo Saari och cellister från Radions symfoniorkester.
Även allmänheten får delta i jordfästningen. Allmänheten får komma in i kyrkan från Senatstorgets sida klockan 11.30. Alla ska ha intagit sina platser i kyrkan senast klockan 12.15. Vi ber dem som önskar delta i jordfästningen notera att det finns ett begränsat antal platser i kyrkan. Vi ber att deltagarna inte har något stort och tungt med sig och förbereder sig på säkerhetskontroll. Det är förbjudet att fotografera och filma i kyrkan.
Sorgetåg från Helsingfors domkyrka till Sandudds begravningsplats
Sorgetåget startar från Helsingfors domkyrka efter jordfästningen cirka klockan 14.45. Sorgetåget kör till Sandudds begravningsplats i kortege eskorterad av ridande poliser och stannar framför Presidentens slott i en minut.
Allmänheten är också välkommen att följa sorgetåget längs dess rutt: Unionsgatan, Alexandersgatan (mot Sjötullstorget, runt högvakten), Norra Esplanaden, Unionsgatan (runt Presidentens slott), Alexandersgatan, Mannerheimvägen, Arkadiagatan, Norra Järnvägsgatan, Mechelingatan, via porten till Sandudds gamla kapell och genom begravningsplatsen till nya kapellet.
Alla kyrkklockor i Helsingfors ringer i cirka 45 minuter under sorgetåget. När sorgetåget är framme vid Sandudds kapell slutar de andra klockorna att ringa, och klockorna i Sandudds kapell börjar ringa.
I Helsingfors centrum gäller exceptionella trafikarrangemang under sorgetåget. Närmare information om trafikarrangemangen ges av polisen och Helsingfors stad.
Gravsättning och minnesstund
President Ahtisaari begravs på Sandudds begravningsplats i ett område där också andra presidenters gravar finns. Gravsättningen på Sandudds begravningsplats börjar cirka klockan 15.45 och tar en halv timme. I gravsättningen deltar president Ahtisaaris närstående och den högsta statsledningen.
President Martti Ahtisaari avled måndagen den 16 oktober i Helsingfors vid 86 års ålder. Ahtisaari var Republiken Finlands president 1994–2000.
ewogICJlbGVtZW50IiA6ICJoc3JreS91dXRpc2V0L3V1dGlzZXQvdXV0aW5lbi9qYWEiLAogICJlbGVtZW50X21vZGUiIDogIiIsCiAgImVsZW1lbnQuY29tcG9uZW50IiA6ICJ0cnVlIiwKICAiaTE4bi5qYWEiIDogIkphYSIsCiAgImVsZW1lbnQuNiIgOiAiZmFsc2UiLAogICJlbGVtZW50LjUiIDogImZhbHNlIiwKICAic2VjdGlvbiIgOiAiZGVmYXVsdCIsCiAgImVsZW1lbnQucHVibGljbGluayIgOiAiL2VsZW1lbnQuaHRtbC5zdHgiLAogICJpbXBvcnRwYXRoIiA6ICIvd2ViY29tcG9uZW50cy9oc3JreS91dXRpc2V0L3V1dGlzZXQvdXV0aW5lbi9qYWEvIiwKICAia29rbyIgOiAiOCIsCiAgIlVJRCIgOiAiaWRQZ1lGUVhBY3kiLAogICJlbGVtZW50LmJhc2UubGlzdCIgOiAiL21vZHVsZXNiYXNlL2VsZW1lbnRzL2hzcmt5L2phYSIsCiAgImNzcyIgOiAiY3NzL2phYS5jc3MiLAogICJFbGVtZW50LkJhc2UiIDogImhzcmt5L2phYSIsCiAgImRhdGFfbGlzdGVuZXJzIiA6ICJoc3JreS91dXRpc2V0L3V1dGlzZXQvdXV0aW5lbi9qYWEiLAogICJjYXJkY2hhbm5lbCIgOiAicHVibGljIiwKICAiZWxlbWVudC5iYXNlIiA6ICJoc3JreS9qYWEiLAogICJDVVJSRU5UUEFUSCIgOiAiL2hzcmt5L3V1dGlzZXQvdXV0aXNldC91dXRpbmVuL2phYS8iLAogICJ1cmxleGVjdXRlcGF0aCIgOiAiL2NoYW5uZWxzL3B1YmxpYy93d3cvaHNya3kvZmkvaW5kZXgvdXV0aXNldC93aGQ4RTE5a08iLAogICJlbGVtZW50LmxpbmsiIDogIi9lbGVtZW50Lmh0bWwuc3R4IiwKICAic2hvcnR1cmwiIDogInRydWUiLAogICJza2luIiA6ICJza2lucy9qYWEuaHRtbCIsCiAgImVsZW1lbnQubG9hZCIgOiAic2VydmVyIiwKICAiWFhYZWxlbWVudC5vbmxvYWQiIDogInNlcnZlciIsCiAgIklOU1RBTkNFSUQiIDogIlBnWUdrQUJQRSIsCiAgImNoYW5uZWwubGFuZ3VhZ2UiIDogImZpIiwKICAiZWxlbWVudC5tb2RlIiA6ICJlbGVtZW50IiwKICAiZWxlbWVudC5wYXRoIiA6ICJoc3JreS91dXRpc2V0L3V1dGlzZXQvdXV0aW5lbi9qYWEiLAogICJlbGVtZW50Lmxhbmd1YWdlIiA6ICJmaSIsCiAgImkxOG4uYmFzZSIgOiAiaHNya3kvdXV0aXNldC91dXRpc2V0L3V1dGluZW4vamFhIiwKICAiZWRpdHVybCIgOiAiaHR0cHM6Ly9oc3JreTIwMTZjbXMtcHJvZC5hYmFrby5maS9iaW4vZ2V0L3ZlZC93aGN1Y0dLNDgud2hjY0RYV0V5LkRFeE5UdnpJNyIsCiAgInB1YmxpY3VybCIgOiAiL2VsZW1lbnQuaHRtbC5zdHgiLAogICIiIDogIiIsCiAgIkdVSUQiIDogIiIsCiAgInZpZXd1cmwiIDogImh0dHBzOi8vaHNya3kyMDE2Y21zLXByb2QuYWJha28uZmkvYmluL2dldC92aWQvd2hjdWNHSzQ4LndoY2NEWFdFeS5ERXhOVHZ6STciCn0=